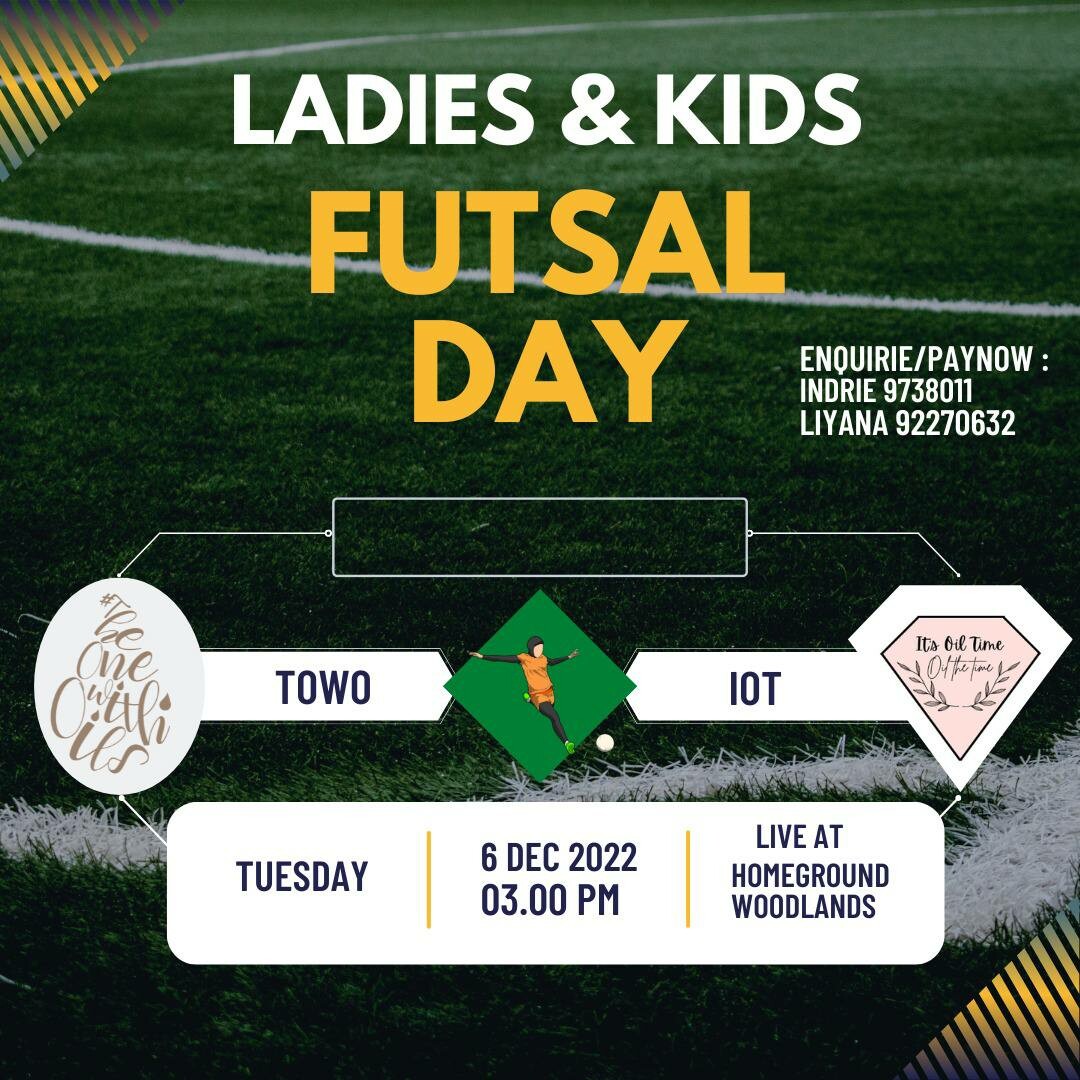 Dec 06, 2022 03:00 PM

AU Western/Singapore time
Venue: Homeground Woodlands
200 Woodlands Industrial Pk E7, Singapore 757177
* This is a ladies/ parent-child futsal session.
* All ladies will be grouped in 4-5 pax for each team and they would be playing amongst each other. Same goes for the children.
* A commitment fee of $15 is payable by adult while children play for free. Drinks will be provided for both adult and children. Please PAYNOW $15 to 92270632 (Liyana). A confirmation text will be sent to you once payment is made.
* This event will be on first come first serve basis.
DISCLAIMER:

By signing up for this futsal activity (hereinafter referred to as "activity") you agree to the following:

* You have voluntarily participate in this activity and is fully aware of any risk involved;
* Both adult and child participants are generally fit and healthy;

* You are deemed to have consulted your doctor for any pre-existing medical conditions and this activity is suitable for both adult and child participants;

* Adult participants are fully responsible for their own child/ children participants at all times.
*The organiser of this activity will not be liable for any damages, accident or injuries sustained during and/or arising out of this activity.

* Please wear appropriate sports outfit and shoes.

* For any further queries, please contact Liyana (92270632) or Indrie (9738 0811).
STAY SAFE AND LET'S ENJOY FUTSAL TOGETHER!
Dec 09, 2022 01:00 PM

–

Dec 09, 2022 03:00 PM

AU Western/Singapore time
Sheena is going to run a finance class for those of leaders who would like to grow their money. Because growing money isn't just for those with "extra to spare". In the class, she will give one all template to use to keep track through the year to come. We will be keying in our own spendings and earnings with your personal excel sheet, it will be easy to use and private for each and every one of us.
Given the climate of how money may look squeezed all over the world, it is foundationally important that we are not trapped by this fear.
Money is not difficult. It really isn't. It isn't cut-throat, it isn't against your principles too. When abundance is with the right people, good things happen for them and those around.
Come for a 2-hour class with me on
9th December 1pm - 3pm at YL Training Room
to learn about how to deal with our relationship with money, and also practically how to rearrange things for money to grow.
If you want to join text me (Sheena) at 92726620 directly k?